PAUSE!
At the beginning of 2021, fear gripped the economic elites as millions of workers began to desert their jobs, first in the United States, where the figures reach 4 million people per month, and little by little in Europe as well. It was nicknamed The Great Resignation and the phenomenon has been interpreted as an effect of the pandemic lockdown, which caused something unprecedented in the post-industrial West: the interruption of production. From one day to the next, there was time to think, get perspective and reassess priorities. Mental space was freed up. Psychologists and sociologists consider that this surplus of time, this immense and unexpected global PAUSE! is at the heart of the mass resignation that has affected workers with high salaries and those with the most precarious jobs alike. Apparently, the reason is not pay but emotional exhaustion.
The trend, which has not entirely disappeared, tells us something important about the political potential of a pause. In these times of hurry, hyper-productivity and permanent connection, when even leisure has become efficient and it seems that there is no corner of life that has not been conquered by profitability, stopping –or being present in another way– has become a revolutionary gesture. The moderate "I would prefer not to" of Bartleby the scrivener, the diligent clerk imagined by Herman Melville in the mid-19th century who serenely stops carrying out his tasks, is no longer enough. Today the desire to stop is expressed emphatically and is emerging as, perhaps, the only way to reset the system.
The world can't stop
Although digitisation has brought a change of scale, the myth of productivity has been with us for a long time. A deep-rooted belief of Christian origin that laziness is a cardinal sin has not left us. Descartes, Hume and Locke defined modern man as a man who is always busy, permanently committed to the civilising project of progress. A contemplative, slow life was intended for women and the weak, oblivious to economic and intellectual development. From then on, the hyper-productive have been the new heroes, an idea that transcends the world of work. As Alain Corbin points out in his History of Rest, this is one of the changes between the modern age, when productivity was limited to work, and the contemporary era, when rest itself has become an industry. For Corbin, this coincides with a change in the social meaning of rest, which has been progressively replaced by the relaxation and entertainment market. Stopping is no longer doing nothing; it is swapping certain activities for others.
The overload is general; both work and personal relationships or so-called "free time" – which is not–, is subject to a demand for efficiency and must be carried out in multitasking mode and as fast as possible. Doing a lot, at once, very quickly is the only way to control FOMO, the contemporary syndrome that expresses a fear of missing out on the latest, whatever, whether we are interested in it or not: the series of the month, the scandal of the week, the story of the day. We do not rest even when we rest because everything we do must have a purpose. We listen to the audios of our loved ones speeded up because we have no time for their silences or their doubts. We want to be able to do everything but we have the feeling of not doing anything at all.
Paradoxically, excess activity has an anaesthetic effect. An overdose of stimulus creates a tunnel effect that places us on the rails of inertia and prevents us from making new decisions. According to the researcher Brigid Schulte, while rest activates the neural networks of creativity and multiplies response capacity, the lack of it decreases our IQ by up to 13 points, reducing learning and concentration. Jonathan Crary, author of 24/7. Late Capitalism and the Ends of Sleep, reminds us that sleep deprivation affects physical and cognitive abilities but also causes a loss of a sense of identity. It is an extreme form of dispossession that is captured well by the concept of burnout, a term used to describe that indeterminate contemporary malaise: a type of fatigue that is not only physical but also mental. It was therefore not surprising when the CEO of Netflix said that his main competitor was not the other platforms but users' sleep time. Since there is nothing worse for business than dead time slots, the perfect consumer is one who does not sleep.
Overstimulated by design
If the insomniac user is at one end of the chain, exploited even during their sleeping hours, at the other is the new productive model, characteristic of informational capitalism, which is the attention economy. We are not just "sad by design", as the media theorist Geert Lovink affirms, referring to the depression caused by social networks. We are also becoming hyperproductive creatures as a result of technological design. The 24/7 culture, of permanent availability 24 hours a day 7 days a week is a feature of the system, a socio-technical infrastructure in which disconnecting has become impossible. This is what is hidden in the 'sleep mode' of our devices: we can turn them off a little but not completely. And sleep mode exists because the off mode is no longer an option.
Social networks and in general all new generation apps are designed to encourage compulsive behaviour by exploiting the brain's addiction to dopamine, the hormone responsible for feelings of well-being. The mechanism, which is used for slot machines and in all gaming environments, consists of designing a system that generates random positive stimuli (e.g. a like, a comment, a prize) so that the brain becomes addicted to continually checking it. It is a technical design that produces the psychological effect of not letting us disconnect. We are drugged but, even in this state –or precisely because we are like this– we continue to be productive and profitable. Or even more.
We know that production control is a political issue. The history of labour rights can be read as a battle for the regulation of work and rest times: the eight-hour day, the day of rest on Sunday or, currently, the battle for the four-day working week. Andreu Belsunces talks about "chronopolitics" to describe how we came to agree on the use of time on an increasingly large scale, from the clocks on bell towers, visible to the entire community, to the wristwatch and the mobile phone, for individual use. The last stage is GPS, which is responsible for the gigantic planetary grid that synchronizes mobile phones, computers, air and road traffic, servers and data centres. This extreme synchronisation creates global shared time between all connected entities –human beings, infrastructures and computer applications– united in an ultra-fast processing network.
If we perceive that time has accelerated, this is why; because our bodies, with their poor physiological rhythms, have been incorporated into that immense computer system, an inhuman network-clock in the most literal sense of the word. Put another way, the feeling that time is slipping away from us is real because, although we can devise computer programmes that work in sub-nanoseconds, we cannot experience the kind of time that they handle. An everyday example of this clash of times is that personal assistance artificial intelligences, in order to appear less machine-like, are programmed to be slower than they really are. If Siri or Alexa spoke at the speed that they could, we would not understand anything.
When we talk about PAUSE! at Getxophoto 2023, we do so from this point of view. We are interested in the way in which hyperproductivity has crept into everyday life and what role images play in this. We are interested in visual narratives that express times of other worldviews, or unproductive spaces that are putting up resistance within our fast-paced world. We are interested in the alternative imaginaries of deep ecology, according to which we ignore our biological cycles in the same way as we ignore those of the planet. We are interested in the accelerated consumption of information and how it translates to the visual economy. We are interested in what time does to photography and what photography tells us about the subjective experience of time.
That's why this is PAUSE! It's not a celebration of just stopping, although we could all do with slowing down. It is not lost on us that stopping in the sense of, for example, taking a holiday is a right, but it is also a privilege and that the pause of some bodies is usually sustained by the overload of others. Nor are we interested in goblin mode, representing the childish adult, between irresponsible and depressed, who spends the day on the sofa. The pause to which we refer is not synonymous with passivity, or even disconnection. It implies disconnecting from some things, yes, but connecting with others better. It is a call for another way of being present and available, for a different quality of care, because, as the philosopher Remedios Zafra says, we tend to think that not wasting time means filling our lives with things, but perhaps that is a great waste of time.
BIBLIOGRAPHY
Herman Melville, Bartleby, el escribiente, Austral, 2012 [1853]
---
Tung-Hui Hu, Digital Lethargy. Dispatches from an age of disconnection, MIT Press, 2022
---
Michael Ende, Momo, Alfaguara, 2007 [1973]
---
Mark Fisher, Realismo capitalista. ¿No hay alternativa?, Caja Negra, 2016
---
Andrew Smart, El arte y la ciencia de no hacer nada, Paidos, 2013
---
Jorge Moruno, No tengo tiempo. Geografías de la precariedad, Akal, 2018
---
Brigid Schulte, Overwhelmed: How to Work, Love and Play When No One Has the Time,
Picador, 2015
---
Jenny Odell, Como no hacer nada. Resistirse a la economía de la atención, Ariel, 2021
---
Amy Ireland, Filosofía-ficción, Holobionte, 2020
---
Yuk Hui, Fragmentar el futuro: ensayos sobre tecnodiversidad, Caja Negra, 2020
---
Jill Bennett, The Big Anxiety. Taking Care of Mental Health in Times of Crisis, Bloomsbury, 2022
---
David Rooney, A Tiempo. Una historia de la civilización en doce relojes, Alianza Editorial, 2022
---
Graciela Speranza, Cronografías. Arte y ficciones de un tiempo y sin tiempo, Anagrama, 2017
---
Corinne Maier, Buenos días, pereza. Estrategias para sobrevivir en el trabajo, Península, 2004
---
Madeleine Dore, I didn´t do the Thing Today, Murdoch Books, 2022
---
Liv Strömquist, No siento nada, Reservoir Books, 2021
---
Byung-Chul Han, Vida Contemplativa: elogio de la inactividad, Penguin Random House, 2023
---
Juan Evaristo Valls Boix, Metafísica de la pereza, Ned, 2022
---
Azahara Alonso, Gozo, Siruela, 2023
---
>> Basque Country Public Reading Network
CURATOR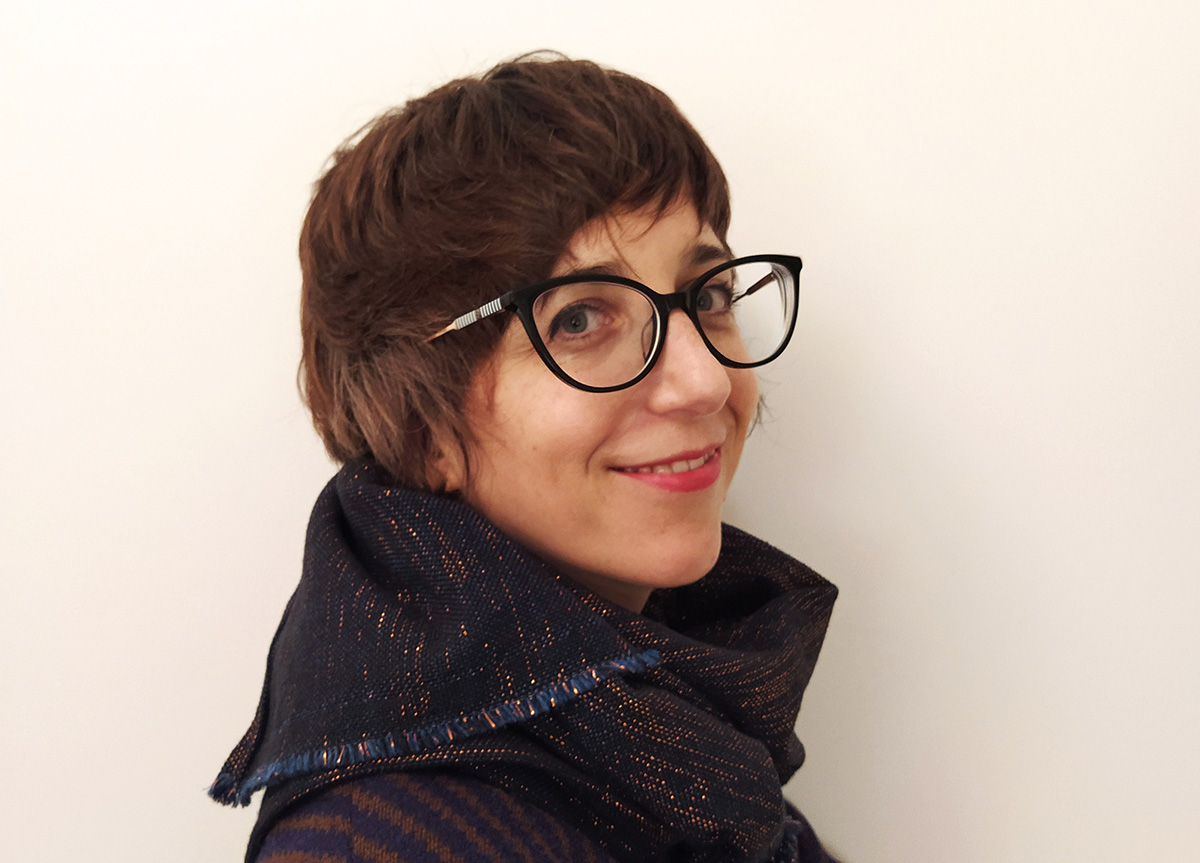 María Ptqk
Born in Bilbao in 1976, María Ptqk holds a PhD in artistic research from the University of the Basque Country, a degree in Law and a degree in Economics, a Master of Advanced Studies in International Public Law from Paris II-Sorbonne and in Cultural Law from the Uned-Carlos III in Madrid, and a Master in Cultural Management from the University of Barcelona. Her work is based on the intersections between art, technoscience and feminisms and is a member of the advisory group of the publishing house consonni. She has worked with a number of leading institutions such as Medialab Prado (Madrid), Azkuna Zentroa (Bilbao), Fundación Daniel y Nina Carasso, CCCB (Barcelona), Jeu de Paume (Paris), La Gaité Lyrique (Paris), GenderArtNet (European Cultural Foundation) or LABoral (Gijon), among others. She has curated the exhibitions Soft Power (Amarika Proiektua Project, 2009), A propósito del Chthuluceno y sus especies compañeras (Espace virtuel du Jeu de Paume, Paris, 2017), Reset Mar Menor. Laboratorio de imaginarios para un paisaje en crisis (CCC Valencia, 2020), Ciencia fricción. Vida entre especies compañeras (CCCB Barcelona, 2021 – Finalist of the Asociaciò Catalana de Crítica d'Art Awards & Azkuna Zentroa, Bilbao, 2022) and Extinción Remota Detectada (LABoral, Gijon, 2022).