Your visit
From august 30th to october 1st, 2017
Free entrance
GETXOPHOTO is a festival dedicated to visual arts which takes place in Getxo (Basque Country). The images are mainly shown outdoors, in Algorta. Go for a walk and discover the installations in facades, streets or gardens. You can easily watch the festival in about 4 hours.
Welcome and info point
We recommend you to start your visit from the GETXOPHOTO info desk. We will welcome you here. Besides the information about the Festival you will find projections, books & magazines, pieces made from recycled materials, etc.
INFO POINT
Amezti st. 4, Algorta-Getxo
Opening times 
Tuesdays to Fridays 17:00 – 20:00
Saturdays 11:00 – 14:30 / 17:00 – 20:00
Sundays 11:00 -14:30
If you have any doubt, don´t hesitate to contact us: info@getxophoto.com
Tours and map
The exhibitions are conceived as a tour, to be seen without haste taking a walk around the city. There is a complete tour but also shorter tours for families.

You can download the map of exhibitions here.

You can download some suggested routes here.

Guided visits and activities
We organize guided visits during the weekends, in Spanish or Basque. You can also request visits for groups. Apart from visiting the exhibitions, quite a few activities are organized all along the month: coasters route, night itineraries, hamaiketako, photowalk, cinema from the bed, …

You can download a summary of the activities here.
How to get there
We recommend the use of public transport and to get by metro to Algorta station. Everything is really close on foot.
Underground
Algorta station, in Getxo (Telletxe exit)
From the centre of Bilbao, 25 minutes aprox.
Train
Arrival to Abando station (centre of Bilbao)
Underground connection in the same station
Plane
International Airport of Loiu
Bus connection to Bilbao centre
Car
from Madrid A1 / E5
from Santander A8 / E70
from Zaragoza AP68 / E804
from France E70 / E80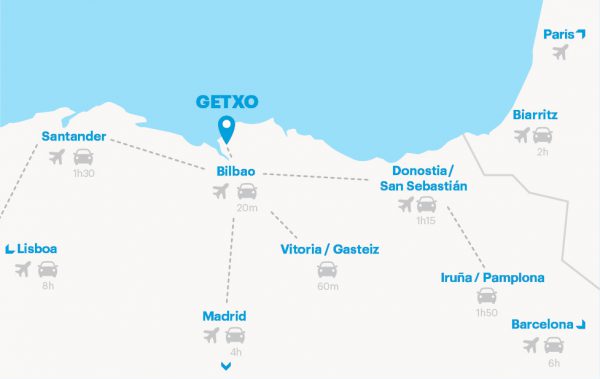 * Parking needs to be paid in Algorta city center, so we recommend to leave the car in Ereaga Beach or the free parking of the Old Port.