Your visit
From September 5th to 30th, 2018
Free entrance
GETXOPHOTO, International Image Festival, takes place in Getxo, Basque Country, close to Bilbao. This festival takes place in September and bets on the use of formats, supports and unconventional spaces to circulate the work of international visual storytellers.
Exhibitions and installations mainly outdoor, collaborations, experimental laboratories and many activities complete the program of the Festival.
The theme of the Festival, Transitions, is presented as a trilogy (2017-2019) and approaches a common concern, the uncertainty of the near future. In the 2018 edition, Transitions 2 will show the work of artists committed to multidisciplinary narratives from all over the world.
How to get there
We recommend the use of public transport and to get by metro to Algorta station. Everything is really close on foot.
Underground
Algorta station, in Getxo (Telletxe exit)
From the centre of Bilbao, 25 minutes aprox.
Train
Arrival to Abando station (centre of Bilbao)
Underground connection in the same station
Plane
International Airport of Loiu
Bus connection to Bilbao centre
Car
from Madrid A1 / E5
from Santander A8 / E70
from Zaragoza AP68 / E804
from France E70 / E80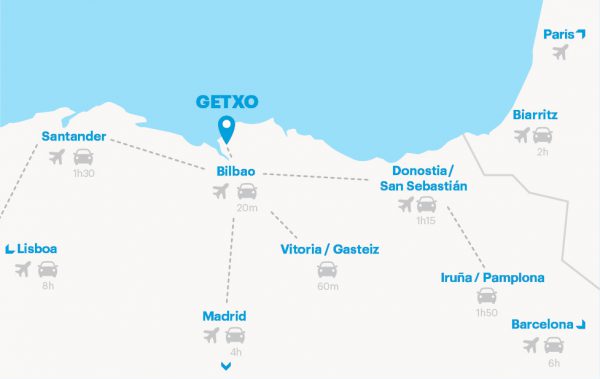 * Parking needs to be paid in Algorta city center, so we recommend to leave the car in Ereaga Beach or the free parking of the Old Port.